Define and Covid-19 links
Covid-19 has been a busy time for us.
We have been building and maintaining the Define platform for Rx-Info for over 10 years now. Define sits in the NHS and aggregates medicine data from over 400 hospitals across the UK, allowing them, and the NHS as a whole, to manage their spend, understand their stock position and inform prescribing behaviour.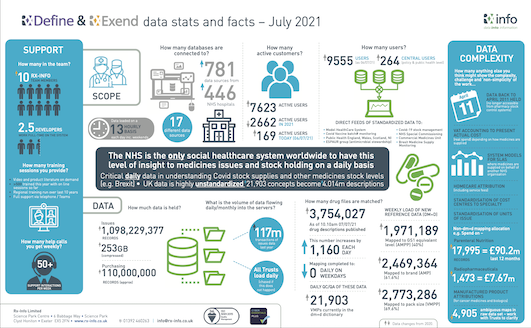 Once Covid-19 struck, we had to quickly adapt the system to:
Collect the stock position of medicines in every hospital, every day, rather than once a month.
Build prediction tools that compares stock vs usuage and allows the NHS to see where they would run out of important medicines (e.g. Paralytics needed for people on Ventilators), so stock could be rushed to the right places.
Collect both stock and batch numbers of Covid-19 vaccines as they were rolled out to the NHS trusts in case side effects or bad batches were discovered.
The HOW TECHNOLOGY HELPED TARGET LIFE-SAVING MEDICINE TO THOSE MOST IN NEED AT THE HEIGHT OF THE COVID PANDEMIC article goes into more detail on what was delivered, how it helped the NHS, etc. and links to the Richard Hey report, a third party evaluation of the software.
The stock shortage reporting is also proving very helpful in managing stock shortages caused by Brexit and other problems like the Ukraine war.
It was a very busy, but exciting, time - it was great to be able to help.
Thanks go to our other halves supporting us by handling the home schooling whilst we were working too many hours.